Thassian Villa's on Thassos, Greece
On a small hill just outside the capital of Thassos Island, Limenas, we have tried to create a little paradise for you. In a quiet and peaceful area, amongst the olive trees, you will find six beautiful villas with private pool. The place is ideal for a family holiday but also couples will enjoy the relaxing atmosphere. My aim is to make your stay at Thassian Villas an unforgettable one.
I hope to welcome you as one of my guests.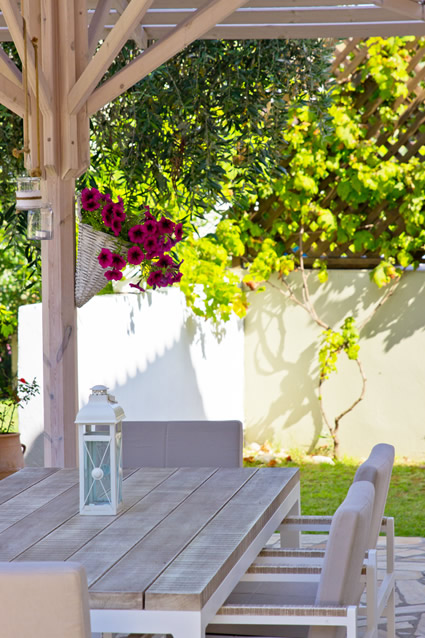 Discover Unlimited Beauty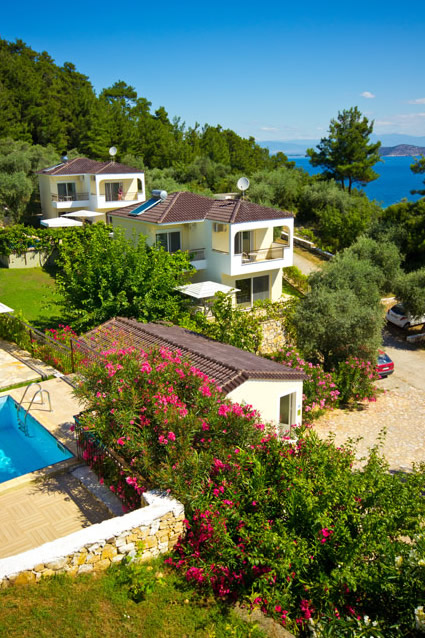 Because of the quiet location of the villas one can enjoy a relaxed atmosphere while Thassos Town, a stone's throw away, offers plenty of restaurants, taverns, bars and good shopping possibilities
The closest beach with bar and tavern is at ca. 400 m distance. The centre of Thassos Town and the port are at ca. 1 km.
Thassos, island of the Sirens, offers you as many options as there are colours in the blues of the sea and sky, the greens of the trees and the golden hues of the sandy beaches. This island in the North Aegean is one of the best options for your summer holiday in Greece, thanks to its beautiful beaches and traditional allure. You will enjoy your stay in our Villa's, sample local delicacies in the villages, hike the trails and seek out the island's secrets. If you are a nature lover, into water sports or just want to taste the good life, Thassos is your ideal emerald escape.
A Look Inside the Villa's
Take a look in our 2 villa's. We offer 2 and 3 bedroom villa's.
Thassian Villas on the Island of Thassos, Greece. Your place to relax and realy enjoy your deserved holiday in our luxues villa's
Beaches
Tarsanas Beach
Golden Beach
Tripiti Beach
Metalia Beach
Psili Ammos Beach
Paradise Beach
Limenas Beach
Nature and Parks
Giola
Waterfalls
Lake Marion